for November 29, 2004



Click here or scroll down
for today's rant...
[Inscrutable Links: John Peel Says "Hi". FM106.3 Staff List. FM106.3's 1988 playlist.]
---
In The Altrok Session Suite: Spiraling
by Sean Carolan
New Brunswick's Spiraling visited the Altrok Session Suite over the weekend...and here's kind of how it looked:

Click on each picture to pop up an enlarged version.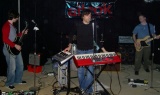 The directions were clear enough to get 'em to the Altrok Session Suite's undisclosed location (hint: hang a right at Dick Cheney)...





The session started promptly at 4:00 pm, as advertised...unfortunately, yours truly finally managed to confirm that the broadcast should go live at 4:01, necessitating a re-take...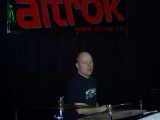 But the guys came to play that Saturday afternoon...




So four songs (and a short but authentic recreation of the music from the Burgertime video game) later, the first ever Session from the Altrok Session Suite was history.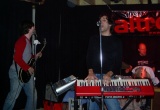 If you didn't get a chance to hear the webcast live on Saturday, tune in to Altrok Radio on Tuesday, December 7 (10am-noon, WRSU-FM 88.7 in New Brunswick) for the session tracks; we'll start playing them in the Altrok Radio web station's playlists then as well.


©2004 Sean Carolan
All material ©2001-2014 Sean Carolan, except as noted.






Today's NY/NJ Shows That Matter

Friday, May 29, 2020

Polaris at The Foundry, Philly (POSTPONED)

Connor Bracken & The Mother Leeds Band, Jaron Clemons & The Late Nights, Morningside Lane and more at House Of Independents (POSTPONED TILL AUG 21)

Lucinda Williams at City Winery (Pier 57) (POSTPONED)

Peter Wolf & The Midnight Travelers at Tarrytown Music Hall, Tarrytown NY (POSTPONED)

Bobby Cochran at Paramount Theatre (POSTPONED)

Bobby Bandiera: Runnin Down A Dream at Count Basie Center For The Arts (RESCHEDULED FROM MARCH 13) (POSTPONED)


More NY/NJ Shows That Matter

ALTROK Ordinals

ALTROK recommends music once a week; here's our most recent choices. Most links will take you to a place where you can buy the music; if there's no link, and you own a record company, consider releasing it yourself...


A Place To Bury Strangers - It Is Nothing

The Boxer Rebellion - Semi-Automatic

The Cribs - Cheat On Me

Datarock - True Stories

Everything Everything - Photoshop Handsome

HEALTH - Die Slow

Miles Hunt and Erica Nockalls - Catching More Than We Miss

Julian Plenti - Games For Days

Los Campesinos - The Sea Is A Good Place To Think Of The Future (Free download!)

Miike Snow - Black & Blue




ALTROK's
Viral Guerilla Marketing Tools



ALTROK talks about music, but that job isn't done 'til you make it your own...



ALTROK is a member of the Amazon.com Associates Program.
Click here to buy there, and help support ALTROK in the process.



You've read the rants, you've listened to the streams...



...now click on the t-shirt to pick up the swag!